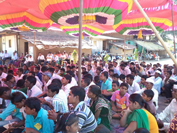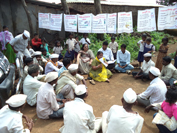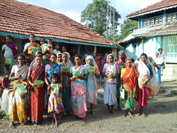 Parivartan recently started new project in tribal belt of Thane District. We are working at Mokhada on community development projects. Mokhada block is 100% tribal belt of Thane district. Agriculture is the main source of income for them and most of the villagers migrate to nearby cities, area for finding employment for the remaining 6 months of the year.
In 2013 we had conducted survey for the students from 1st to 4th Standards from Hirve- Ghanwal Grampanchayat form Mokhada Block (Taluka). In this pre-test we came to know that 75% students of 3rd and 4th Standard will not able to read and write, we planned to implement new innovative programme Khelwadi.
Looking at the present status of children in this area it seems that due to various reasons quality education has not been given to them. These children remain deprived of quality education .They need to get an appropriate channel to build up their abilities, stimulate their creative thinking & build up the overall personality. It will help to reduce the gap between the quality education provided in urban & rural areas. Considering this need we decided implement Khelwadi project in these areas to provide supportive education & focus on the overall development of children. Our aim is to provide supportive coaching classes to improve the reading & writing skills, communication skills, to help children learn mathematical, scientific concepts in simpler way etc. Besides we provide them an opportunity to develop their potentials, chance to participate in each & every activity, help them build leadership skills , develop coping mechanisms & gain confidence to face the society in a more positive way. Kelwadi not only help them to improve the academic performance but also it helps children build up personality to deal with life situation more positively. Strategy of learn with fun has enhanced the interest of children. Special syllabus and different teaching techniques are two important aspects of the Khelwadi. From June 2013 we were running two Khelwadi's in the area. 67 children are taking benefit of the project.
When we started this Khelwadi project in the area, another important aspect that we found is many families migrate to nearby cities for employment purpose. Recently one act for providing employment opportunities for the villagers throughout the year has been passed by State Government. National Rural Employment Guarantee Act has been passed to reduce the migration and poverty from the rural area. We observed that people are not aware about this act and don't know how to use the same for their benefit, we started organizing awareness camps for the act in the area. Parivartan strongly believes in increasing people's active participation in their own development, awareness generation tool was used by the organization. More than 12 awareness camps in 12 hamlets of the village were organized in 3 months. When people got information about the act, they demanded detailed training programme for the same. We had conducted training programmes for effective implementation of the act, and how people will get benefit from the same. As a result for last 3 months more than 250 villagers got employment opportunities in their villages only. Continuous follow –up and monitoring of the act will certainly help to reduce the migration from the area.
As organization we also work with Self Help Groups (SHG) from the area to make them self-sustainable. We also conduct various training programme to make them self-sustainable. We at Parivartan believe that every individual has power and capacity to develop one. It is only push, motivation and moral support that everyone requires to bring change in the lives. We cater these needs of the women and give them feeling that they can change their world, come out of poverty, can bring positive changes in village governance. Formation of SHGs, regular rapport with the women, monthly meetings with members, bank linkages for business development, communication with Government Authorities are some of the tasks that we perform for SHGs. We also work with them in the area of agricultural development. We provide kitchen garden seeds, conduct kitchen garden competitions, farmers training programmes at Mokhada and nearby villages. This year we have distributed 150 Kitchen garden seeds to SHG members.
Special training modules prepared and implementing –
Bachat Gat : Ek Navi Disha, Bachat Gat : Gav Vikasachachi Chalwal, SHG Audit, Bachat Gat : Employment Opportunity etc. for empowering Self-help groups on various issues like role of SHG members, team building, empowerment through SHG, financial management, auditing and on other various subjects as per requirement of the SHGs.