Parivartan Mahila Sanstha is a Non-profit organization registered in 2000 by women who were active in social sector in various capacities. The organization is established with the prime focus of women empowerment and thus deliberately decided to have an executive body with all women members.

A group of few active persons from different parts of Maharashtra State, came together to form this Organisation. All of them had one common interest and only aim that is "Empowerment of the women from society". While every one of them were performing some or the other powerful activities, towards Women Development, in their local area, they felt the need of establishing organization to work for conveying & implementing the various programmes, government schemes at grass root level for upliftment of women throughout Maharashtra.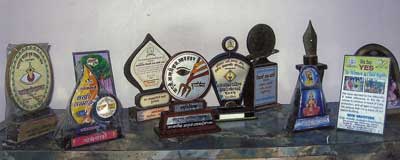 Since then with a vision of a society where every woman lives with freedom and dignity, Parivartan has made continuous efforts to address varied facets of life. Community participation and holistic development approach are the key word that we use in our organization. In all programmes we try to motivate participants, beneficiaries to participate actively in the process of their own development. We as organization play a role of facilitator and motivator. Our thrust is to make them self reliant and there should be sustainable development of the society. Along with this all organization facilitate various networks related to child trafficking and implementation, evaluating, monitoring various schemes running through Government.