Mokhada – Khelwadi Project

Yes… We are Change Makers…. We will do it…. Innovating Raksha Bandhan Prog.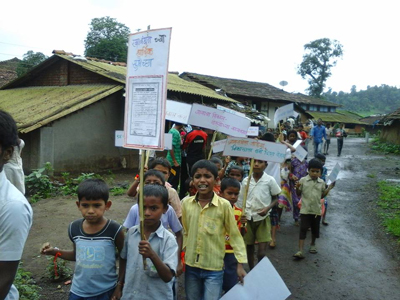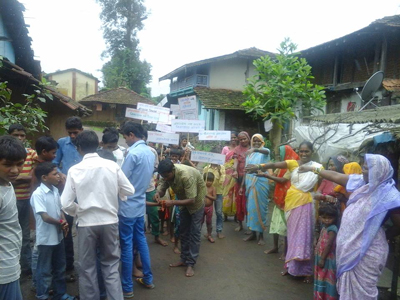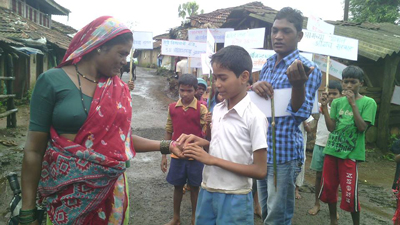 We are Change Makers ….This message is given by small children who have yet not received right to vote… Not eligible for changing governance of village. But they all are fully convinced that they can bring changes… they all are change makers… More than 130 children participated in the Rally with full on energy…. Tied Rakhi to 975 villagers from four different Pada's of Hirve – Ghanwal Grampanchayat of Mokhada District.
By taking advantage of festival of Raksha – Bandhan Parivartan had organized rallies of school children at Hirve –patilpada, Jambhulmatha, Kodesagwadi, Phansawadi of Mokhada Block. We had explained to them the concept behind Raksha Bandhan. Raksha means to save, to support, to protect….. bandhan means bond. Normally sisters ties the Rakhi on the wrist of her brother and this tying of Rakhi demands a promise from the brother that he should always behind his sister to support her, to protect her and be her savior throughout her life.
In today's changing scenario a unique aspect of Raksha Banshan was highlighted by Parivartan Mahila Sanstha. A promise was sought from the villagers to protect and save their own villages. To strengthen this promise, as a part of the rally, children visited every home and tied Rakhis to the villagers. The future was demanding from the present, village to be a better place for the glories future. To ensure this, children emphasized the necessity of villagers attending Gramsabha, where all the major decisions regarding development of the village are done. It is imperative that the entire village take part in this decision making process..
Attend Gramsabha….. Be a change maker
हमारे गाव में .... हम सरकार